Ross Valley Players Membership Now Open!
Click

here

for more details!
Ross Alternative Works presents "Arches, Balance, and Light"
World Premiere at Ross Valley Players
Written by Mary Spletter, Directed by Jay Manley
Click here to enjoy all the RVP Encore Performances today!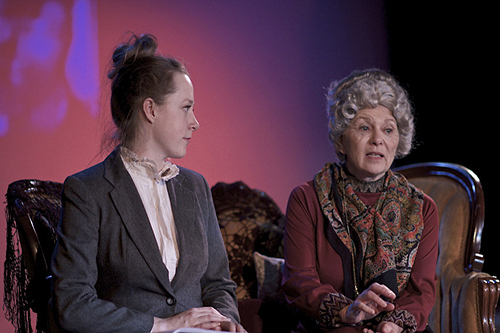 Arches, Balance and Light is the story of famed architect Julia Morgan. The Berkeley native was the first woman to be admitted (after much struggle) to the École nationale supérieure des Beaux-Arts in Paris, the first female architect certified in California, and the first female architect to win (posthumously) the AIA Gold Medal.
Incredibly devoted to her career, over 700 of Morgan's designs have been built. She is most famous for designing Hearst Castle, William Randolph Hearst's mansion at San Simeon, but the Bay Area is filled with her work. Her slavish devotion to architecture left little time for anything else, including, it seems, a romantic life. Enter playwright Mary Spletter, who has brought the fascinating character of Morgan to life, and added a little fictional ornamentation, imagining what might have gone on during Morgan's time in Paris.