The Mousetrap, 2019. Photo by Robin Jackson
Auditions
Open Auditions
Ross Valley Players holds open auditions for every show we produce. To receive all audition notices, please click HERE. We welcome you to join our wonderful group of collaborators in making professionally-oriented, high-quality live theatre in Marin. We are the oldest continually operating theatre company on the West Coast. Wonderful Non-AEA actors come from throughout the Bay Area to play on our historic stage. Our houses our well-attended, parking is free and easy, and we offer a stipend. We have been nominated for and have received Bay Area Theatre Critics Circle Awards, Dean Goodman Awards, and Theatre Bay Area Awards.

Auditions:
Saturday, September 23, 2023, 10 AM to 3 PM at The Barn Theatre, 30 Sir Francis Drake Blvd., Ross
Audition Requirements:
Please email producer Steven Price to submit a video audition OR to set up an in-person audition – steve@tessera.bz
Bring a headshot and resume, or email both ahead of time. Download sides here.
One short piece of no more than two minutes in length, total. Pieces that demonstrate an understanding of the style and character of Our Town are recommended.
RVP is offering non-union actors $20 per diem to cover travel expenses which typically amounts to $800 -$1000 for the show. For AEA members, RVP is offering the Special Performance contract.
Callbacks:
Monday, September 25, 2023, 6:00 pm to 10:00 pm at First Church of Christ, Scientist, 1618 5th Avenue, San Rafael. Entrance is on Mission Street. When facing the church on 5th Avenue take the path on the left to Mission Street and turn right. The door is the first door on the right.
Rehearsals:
December 4, 2023 – January 24, 2024
Sunday – Wednesday evenings, 6:00 pm to 10:00 pm
Technical Rehearsals:
Saturday, January 20, and Sunday, January 21, 2024
These may be all-day commitments
Dress Rehearsals:
Monday, January 22, 2023 through Wednesday, January 24, 2023
Performances:
Preview, Thursday, January 25, 2024
Friday, January 26 – February 25, 2024
Thursdays – Saturdays 7:30pm, Sundays at 2:00pm
Synopsis:
In the small, idyllic town of Grover's Corners, Wilder weaves a tapestry of everyday life, inviting us to reflect on the essence of human existence. Through the young lovers, Emily and George, their strong and loving parents, and the many other Grover's Corners locals, we're gently reminded of the importance of appreciating the life we have, and the people with whom we share it.
Characters:
Stage Manager/ Joe Stoddard/Minister:
The Stage Manager is the narrator of the play, who also plays other roles in the play. He guides Emily in her return to the living world.
Joe Stoddard is the town undertaker, who provides background information in the third act.
The Minister begins the wedding scene and comments that everything about a wedding that cannot be represented.
Emily Webb:
The Webb's intelligent daughter, who grows up during the play, joins the two major families when she marries George Gibbs, and dies later during childbirth.
George Gibbs:
Dr. and Mrs. Gibbs' sixteen-year-old son, who discovers his love for Emily, marries her in the second act, and grieves for her loss in the third act.
Mr. Webb:
The editor and publisher of the Sentinel, the town's newspaper, and one of its most important citizens. He lives across from the Gibbs family.
Mrs. Webb:
Charles Webb's wife, who reveals her character through her conversation with Mrs. Gibbs; she represents the typical mother and housewife
Mr. Gibbs:
The town's doctor, who is returning from delivering the Goruslawski twins during the first act. He is the father of George and Rebecca Gibbs.
Mrs. Gibbs
Dr. Gibbs' wife, who represents a typical housewife in the first two acts; in the final act, she is seen as a spirit.
Wally Webb/ Joe Crowell Jr.:
Wally is Emily's younger brother and one of the spirits in the last act. In Act III, we discover that he died suddenly from a ruptured appendix while on a Boy Scout trip.
Joe is the paper boy in the first act and also during the flashback, when Emily returns to life. A scholar at Massachusetts Tech, he is killed in France during World War I before he can use his education.
Rebecca Gibbs/ Si Crowell:
Rebecca is Dr. and Mrs. Gibbs' daughter, who is four years younger than George. She realizes that Grover's Corners is part of New Hampshire, part of America, part of the world, the universe.
Si is Joe's younger brother, who takes Joe's job as paper boy in Act II to indicate the passage of time.
Simon Stinson/ Man In Audience:
Simon is the organist of the Congregational Church who is the subject of town gossip because of his alcoholism.
The Man In Audience shouts out questions from the audience.
Mrs. Soames/ Woman in audience:
Mrs. Soames is a local busybody who clucks over Simon's alcoholism and idealizes George and Emily's marriage.
The Woman In Audience shouts out questions from the audience.
Professor Willard/Constable Warren/Mr. Carter:
Professor Willard is a faculty member of State University who recites facts about Grover's Corners.
Constable Warren is the town law enforcement officer, whose duties require him to be sure that doors are locked and that drain pipes are adequate.
Mr. Carter seems uninterested in human affairs.
Howie Newsome/ Sam Craig:
Howie Newsome is the milkman who guides a seventeen-year-old horse named Bessie.
Sam is the son of Julia Gibbs' sister Carey, he comes back from Buffalo after twelve years' absence. He provides exposition in the last act.
RVP looks forward to meeting artists of all races/ethnicities, abilities, ages, and genders/gender identities who would like to help create theater at RVP.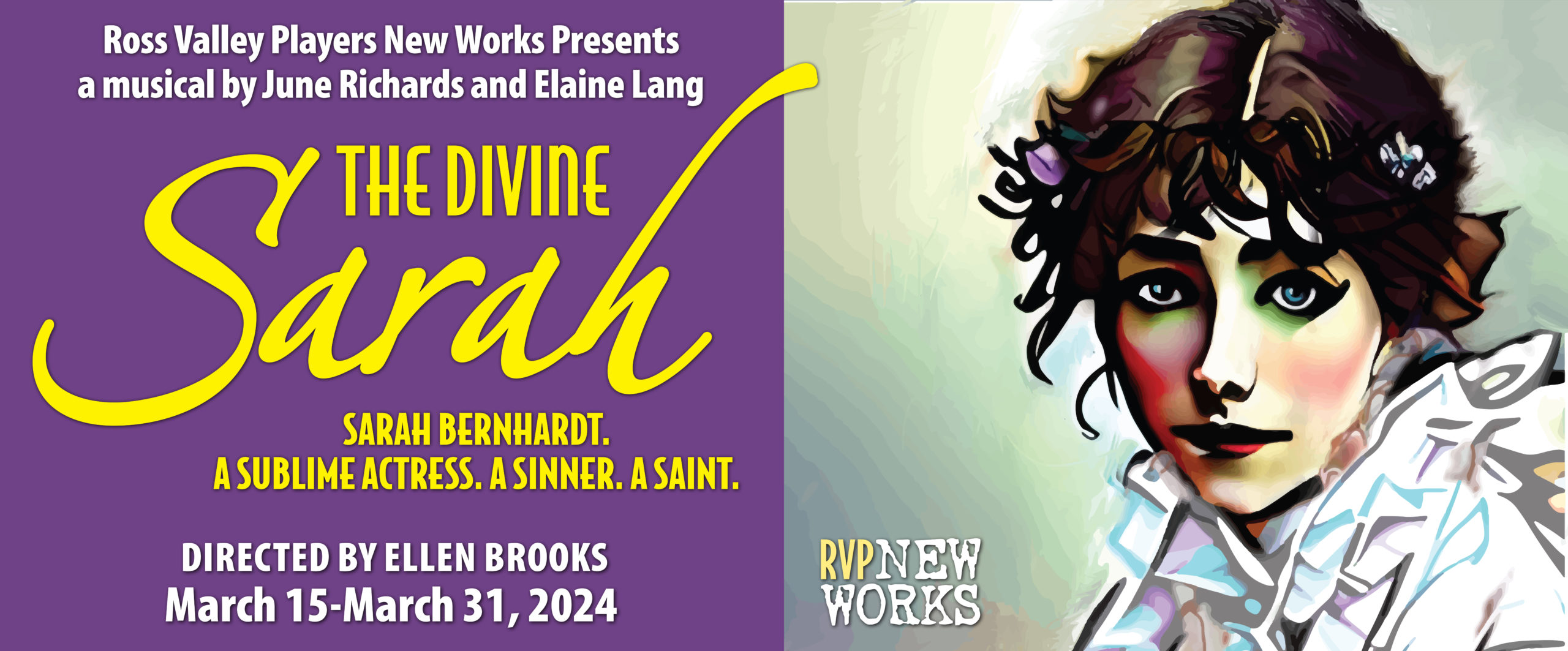 A contemporary musical created by June Richards and Elaine Lang about the incandescent Sarah Bernhardt, the most celebrated woman of her time. Directed by Ellen Brooks. Designed by Ron Krempetz and Dhyanis Carniglia. Costumed by Michael Berg.
Auditions:
Saturday, November 4, 2023, 11 AM to 4 PM and Sunday, November 5, 2023, 11 AM to 5 PM at The Barn Theatre, 30 Sir Francis Drake Blvd., Ross
Audition Requirements:
Please email producer Michael R. Cohen to set up an in-person audition – michaelrcohen14@gmail.com
Bring a headshot and resume, or email both ahead of time. Bring your sheet music.
Prepare a short piece of your best work ~ 90 seconds to 2 minutes max.
Prepare one song that demonstrates your range and flexibility. We are looking for quick, flexible, energetic performers of any age, gender or ethnicity to play multiple characters.
RVP is offering ensemble actors a daily per diem for each rehearsal and performance.
Callbacks:
Saturday, November 11, 2023
Rehearsals:
Begin Monday, January 29, 2024. Time TBD
Performances:
Preview, Thursday, March 14, 2024
Opening, Friday, March 15, 2024
Performs Thursday, Friday, Saturday evenings at 7:30 – Sundays at 2pm
Closing March 31 ~ a three week, 12 performance run
Synopsis:
The Divine Sarah beautifully captures the essence of Bernhardt's extraordinary life. Immerse yourself in the opulence of the Belle Époque era and witness the rise of a true trailblazer. Feel the electricity in the air as she fearlessly challenges societal norms, defying expectations as both an actor and a woman. From humble beginnings to international stardom, this spellbinding musical takes you on an emotional rollercoaster, touching your heart, and transports you to the world of grand theatres where Bernhardt reigned supreme.
Characters:
Sarah Bernhardt: Female, lead. plays 18-40. Soprano/mezzo soprano. Confident , flexible expressive voice. Passionate, vulnerable, charismatic. Evolves from a young girl into the actress who captures the world's imagination.
The Ensemble Featured: Each ensemble member acts, sings, moves ~ creating all the different characters in Sarah's life. All are actor from The House of Moliere theater company in Paris. Good voices and physical movement with the ability to move in and out of characters throughout the show.
Gilda: a servant in Sarah's household
Young Sarah:
Youle Support: Julie Van Hard, Sarah's mother. 40-60. Dramatic soprano with an important aria in Act I. A famous courtesan of the 19th century. Secretive, powerful, more beautiful than Sarah and a great entertainer.
Sarah's Nurse and Mother Saint Sophie: 30-60.
Charles , the Duc De Mornay: Featured. 30-60. Worldly, sophisticated aesthete. Talk/sings a song in Act ii
Jean Mounet-Sully: Support 30-40 Charismatic 19th century leading actor. Passionate, head-strong, willful. Sings a song about lost love in Act II.
Teachers at the academy: Any age, sing, speak, dance.
Monsieur Thiery: 30- 60. Famed director of Comedie Francaise
Prompter: Any age or gender.
Regina: plays 13-16 Sarah's younger sister.
Madame Natalie: 40-60. Formidable actress and company member.
Henri de Ligne: Support 25-40. Royal Prince of Belgium and Sarah's first lover. Two important songs in Act I.
The General: 60-70. Uncle of Henri. Commanding.
Chilly: Featured 25-40. Theater director at the Odeon who gives Sarah her first break.
Wounded Soldier: 25
Victor Hugo: 60-70. 19th century playwright, author of Les Miserables. Charming, charismatic. loves the theater.
Sophie Croiette: Featured. 20-35. Sarah's rival with the public. Sings the beautiful Flower Girl waltz in Act II
Maurice: Sarah's young son.
Edward Jarrett: 30-60 Brash American Impresario.
Jennie June: an American reporter
Alexander III: Czar of all Russia.
Download script here
Download sheet music and audio here
RVP looks forward to meeting artists of all races/ethnicities, abilities, ages, and genders/gender identities who would like to help create theater at RVP.