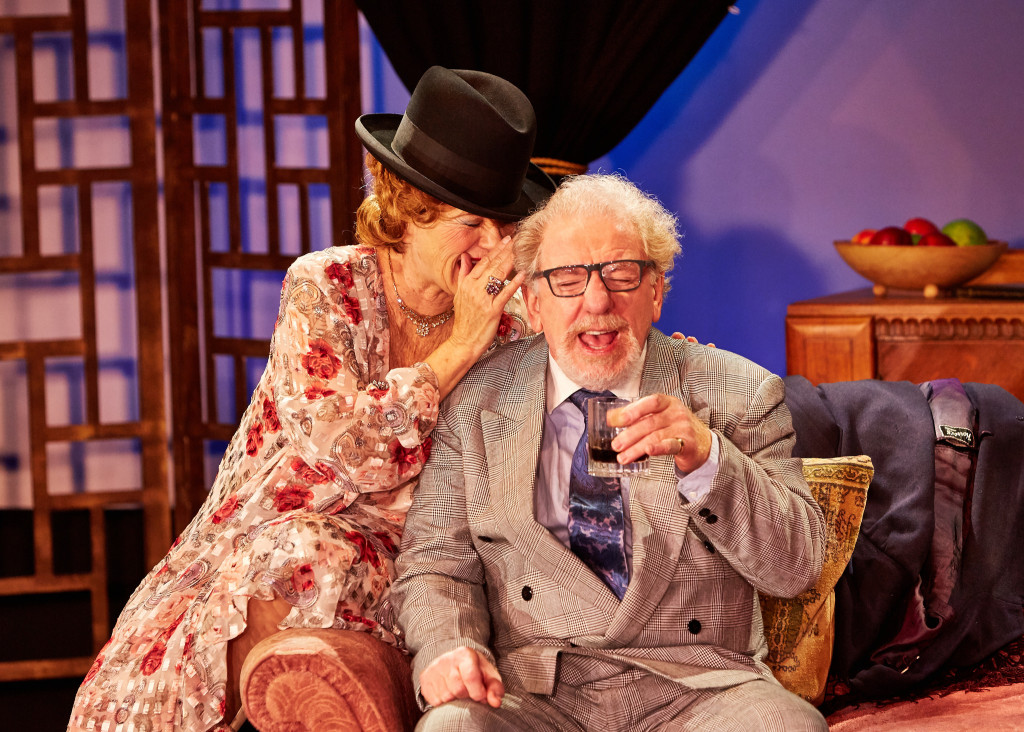 Glorious! 2015. Photo by Gregg Le Blanc.
Auditions
Open Auditions
Ross Valley Players holds open auditions for every show we produce. To receive all audition notices, please click HERE. We welcome you to join our wonderful group of collaborators in making professionally-oriented, high-quality live theatre in Marin. We are the oldest continually operating theatre company on the West Coast. Wonderful Non-AEA actors come from throughout the Bay Area to play on our historic stage. Our houses our well-attended, parking is free and easy, and we offer a stipend. We have been nominated for and have received Bay Area Theatre Critics Circle Awards, Dean Goodman Awards, and Theatre Bay Area Awards.
The Children's Hour
Character Descriptions
Karen Wright: (20-30/F)school teacher at the Wright-Dobie School for girls. Warm, understanding, and steady woman, devoted to her community and the school she is running with her long-time friend and partner, Martha.
Martha Dobie: (20-30/F) school teacher at the Wright-Dobie School for girls. Devoted to Karen and the school they've started together, quicker to let her emotions show when conflict arises.
Mrs. Lily Mortar: (45-65/F) former actress that never reached her full glory, still dreams of what could have been. Aunt to Martha Dobie.
Dr. Joseph Cardin: (25-35/M) caring, hardworking, hopeful young doctor. Engaged to Karen Wright.
Mrs. Amelia Tilford: (55-65/F) proud, dignified, influential woman. Grandmother and caretaker to Mary Tilford, whom she is devoted to.
Agatha: (35-45/F) sharp, no-nonsense woman, maid to Mrs. Tilford. Sees right through Mary's pretenses.
Mary Tilford: young school girl, conniving, manipulative, and very bright. Appears to know everyone's secrets and blackmails them to get what she wants.
Peggy Rogers: young schoolgirl, shares a room with Evelyn and Mary. Sweet and apologetic, is afraid of Mary.
Evelyn Munn: young schoolgirl, rooms with Peggy and Mary. Wants to do right, blind to Mary's manipulation until it is too late.
Rosalie Wells: young school girl, more independent than the others. Dislikes Mary and is wise to her ways, but ultimately becomes a pawn in Mary's game.
Helen Burton: young schoolgirl. Quiet, does what she is told.
Lois Fisher: young schoolgirl. Dedicated, but not too bright.
Catherine: young schoolgirl, very book smart, easily frustrated by the other girls' inability to keep up.
THE CHILDREN'S HOUR
Written by Lillian Hellman
Directed by Neiry Rojo
January 19 – February 11, 2018
AUDITIONS
Auditions by appointment June 3 from 12 to 4 pm and June 4 from 6 to 9 pm. Call backs by invitation on June 6 from 7 to 10 pm. Please prepare one contemporary 60 second monologue. You may be asked to cold read sides. Rehearsals begin November 13. Non-AEA. $100 stipend. For appointment, please contact Amber Crane to schedule an audition slot.
ABOUT THE SHOW
The Children's Hour is one of the great successes of this distinguished writer. A serious and adult play about two women who run a school for girls. After a malicious youngster starts a rumor about the two women, the rumor soon turns to scandal. As the young girl comes to understand the power she wields, she sticks by her story, which precipitates tragedy for the women. It is later discovered that the gossip was pure invention, but it is too late. Irreparable damage has been done.
REHEARSALS
November 13 through January 18, 2018
PERFORMANCES
Thursdays January 18 – February 8, 7:30 pm curtain
Fridays & Saturdays January 19 – February 10, 8 pm curtain
Sundays January 21 – February 11, 2 pm curtain
Strike following matinee on February 11
Cabaret
Character Descriptions
Emcee – Master of Ceremonies at the Kit Kat Klub, a leering and flamboyant host. (Note: This role has been pre-cast)
Sally Bowles – Headlining British singer at the Klub, a free spirit. 24-35
Clifford Bradshaw – An American would-be writer travelling through Berlin. 25-35
Fraulein Schneider – An older German woman who runs a boarding house. 45-60's.
Herr Schultz – An elderly Jewish fruit shop owner who falls in love with Fraulein Schneider. 45-60.
Ernst Ludwig – German who initially befriends Cliff, later revealed to be a Nazi. 20-30.
Fraulein Kost – a prostitute who rents and entertains in Fraulein Schneider's boarding house. 30-45.
Ensemble – All will play various roles: Klub patrons and entertainers, German citizens, sailors, etc. 4-6 women (18-30) and 3-4 men (18-30).
CABARET
Book by Joe Masteroff
Music by John Kander, lyrics by Fred Ebb
Directed by James Dunn
Musical Director Debra Chambliss
Choreographer Sandra Tanner
September 21 – October 22, 2017
AUDITIONS
Auditions by appointment June 10 from 1 to 5 pm and June 11 from 7 to 10 pm. Actors must prepare a musical theatre audition song (bring sheet music in your key, no transpositions), dance, and cold read from script. Dress to move for dance audition; women should bring heels or character shoes. Call backs by invitation on June 17 at 12:30 pm. Rehearsals begin August 7 through September 21. Non-AEA. $100 stipend. For appointment, please call Bob Wilson at (415) 461-8927.
ABOUT THE SHOW
It is the early 1930's in Berlin. Cliff Bradshaw, a young American writer, steps off the train and finds his way to the seedy Kit Kat Klub, presided over by the Emcee, where Cliff is introduced to British singer Sally Bowles. Cliff rents a room from at Fraulein Schneider's boarding house, where Herr Schultz and Fraulein Kost also board, and attempts to make a living teaching English to Ernst Ludwig, whom he met on the train.
The scenes shift between the Klub and boarding house as the atmosphere in Berlin shifts with the rise of the Nazis, affecting the lives of all involved. Sally and Cliff's relationship grows, and when she is fired from her cabaret job she moves in with him, and shortly thereafter reveals she is pregnant. The show addressed the rise of anti-Semitism, Nazi brutality, and their effects on the individuals living through this period of rapid and drastic change.
REHEARSALS
August 7 through September 21, 2017
PERFORMANCES
Thursdays September 21 – October 19, 7:30 pm curtain
Fridays & Saturdays September 22 – October 21, 8 pm curtain
Sundays September 24 – October 22, 2 pm curtain
Strike following matinee on October 22