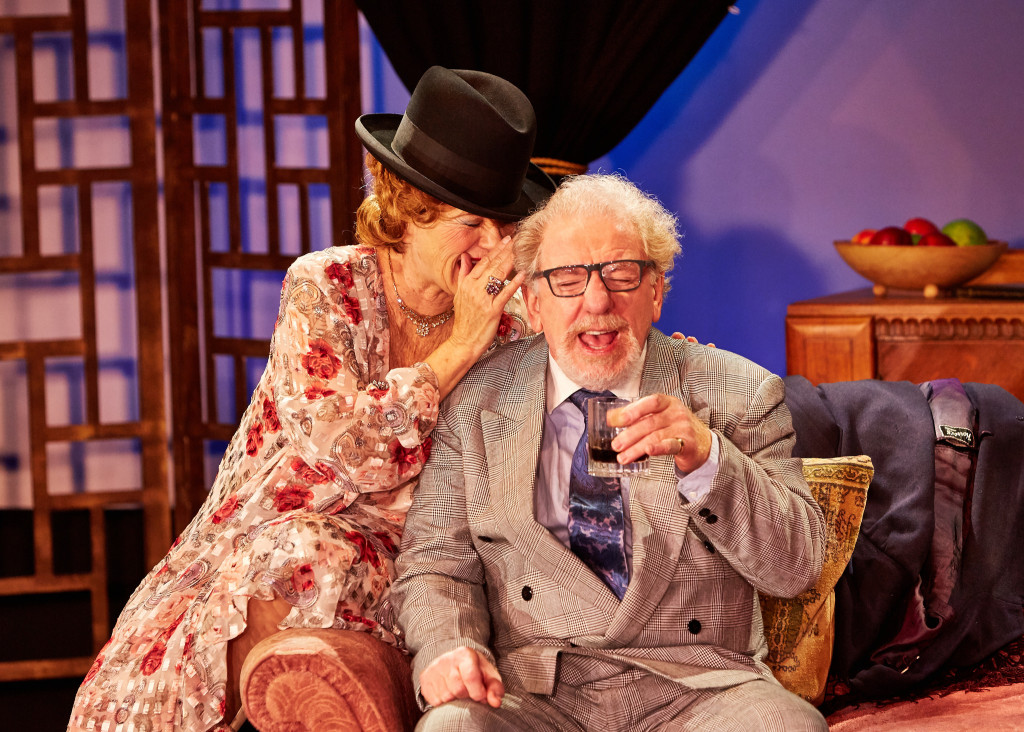 Glorious! 2015. Photo by Gregg Le Blanc.
Auditions
Open Auditions
Ross Valley Players holds open auditions for every show we produce. To receive all audition notices, please click HERE. We welcome you to join our wonderful group of collaborators in making professionally-oriented, high-quality live theatre in Marin. We are the oldest continually operating theatre company on the West Coast. Wonderful Non-AEA actors come from throughout the Bay Area to play on our historic stage. Our houses our well-attended, parking is free and easy, and we offer a stipend. We have been nominated for and have received Bay Area Theatre Critics Circle Awards, Dean Goodman Awards, and Theatre Bay Area Awards.
The Game's Afoot
Character Descriptions
William Gillette (M 35-45): Dynamic and charming stage actor, he has made a fortune from his stage adaptation of Sherlock Holmes, whom he also plays – and was recently shot in a bizarre incident. Gillette is determined to use his Sherlockian skills to solve the case. Must have great comic skills.
Felix Geisel (M 40-45): The Company's character actor, Felix is a true theatre person who has given his life for the stage. Gillette's best friend and occasional sidekick; married to Madge. Must have great comic skills and be physically strong.
Simon Bright (M 23-27): The male ingénue of the company, Simon is an enthusiastic young man, eager to please and find success and a bit naïve. He is recently married to Aggie.
Inspector Harriet Goring (F 35-50): English and eccentric, completely one of a kind, always off the mark, and yet never far from the truth, somehow she always gets her man. Must have great comic skills.
Martha Gillette (F 60-70): Gillette's dotty mother, elegant though a bit foggy. Martha never shies away from a fight and is always willing to lob a criticism when necessary. Martha is loyal to Gillette and his gang of theatrical misfits. Must have great comic skills.
Madge Geisel (F 35-45): Wry and outspoken, Madge, like her husband Felix, is a theatre person. She is game for anything, but back her into a corner and she will come out swinging. Must have great comic skills.
Aggie Wheeler (F 25-30): Aggie is the ingénue of the company. She is recently married to Simon, they make a charming and wonderful couple.
Daria Chase (F 35-45): Glamorous and gorgeous, Daria is the theatre critic everyone loves to hate, biting, bitchy and utterly charming – you can't help but like her, despite the terrible things she says and writes.
The Game's Afoot
or Holmes for the Holidays
November 16 – December 17, 2017
Playwright: Ken Ludwig
Director: Christian Haines
Production Manager: Maureen O'Donoghue
THE PLAY
It is December 1936 and Broadway star William Gillette, admired the world over for his leading role in the play Sherlock Holmes, has invited his fellow cast-members to his Connecticut estate for a weekend of revelry. But when one of the guests is stabbed to death, the festivities in this isolated house of tricks and mirrors quickly turn dangerous. Then it's up to Gillette himself, as he assumes the persona of his beloved Holmes, to track down the killer before the next victim appears. Danger and hilarity are nonstop in this glittering whodunit set during the Christmas holidays.
AUDITIONS
July 15 from 1 – 4pm
July 16 from 7-10pm
Cold read from script.
Callbacks July 18, 2017 at 7 pm by invitation.
Appointments: omaureen@Hotmail.com or 415-235-8800

PERFOMANCES
November 16 – December 17, 2017
Thursdays at 7:30 pm
Fridays & Saturdays at 8 pm
Sundays at 2 pm curtain
Strike following matinee on December 17
Non-AEA. $100 stipend.