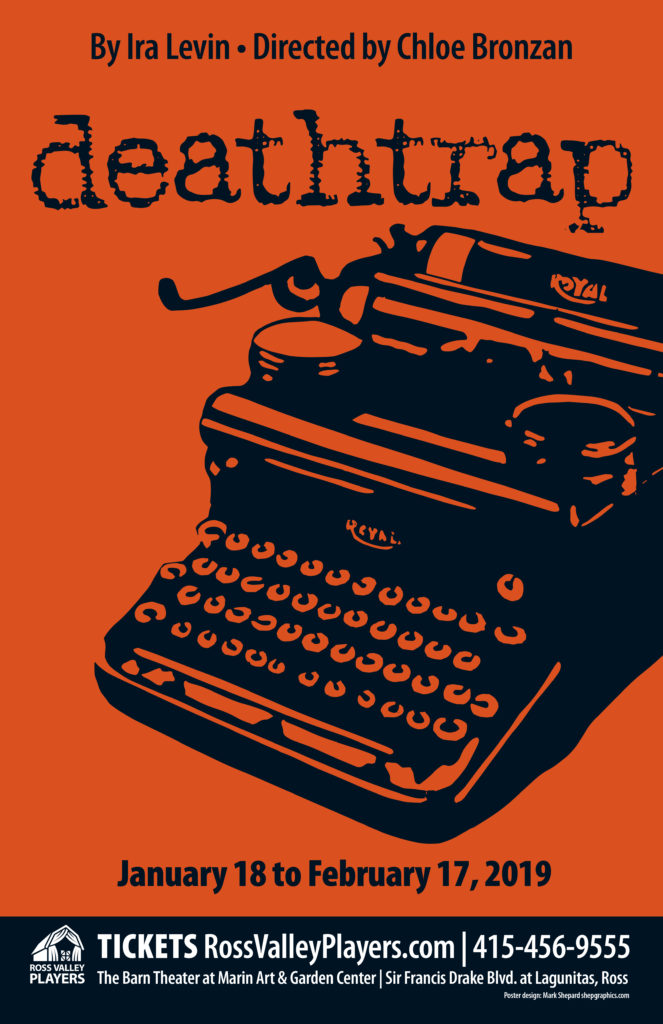 Deathtrap – Written by Ira Levin Directed by Chloe Bronzan – January 18 – February 17, 2019
Count the murders in this comic thriller…and you'll be wrong. Deathtrap twists and turns with devilish cleverness, thrills and plenty of laughter along the way. Nominated for 4 Tony Awards, Deathtrap ran on Broadway for a record four years.
Pay What You Will Preview – January 17 at 7:30 pm
Opening Night Pre-Show Subscriber Reception – Friday January 18 at 6:30 pm
Buzz at the Barn – Saturday, January 19 at 7:00 PM pre-show (sparkling wine and snacks with ticket)
Talkbacks – Sunday January 27 and February 3 – discuss the show with Director and Cast following the matinee
Show Times: Thursdays at 7:30PM, Fridays and Saturdays at 8:00PM, Sundays at 2:00PM
A Theatre Bay Area Awards Recommended Production!
CAST
Amber Collins Crane – Myra
Gregory Crane – Sidney
Clifford – Bryce Smith
Helga – Marsha van Broek
Porter – Tom Reilly
PRODUCTION TEAM
Chloe Bronzan – Director
Heather Shepardson – Stage Manager
Maureen O'Donoghue – Production Mgr & Co-Executive Producer
Steve Price – Co-Executive Producer
Tom O'Brien – Set Designer
Dhyanis – Properties Designer
Lighting Designer – Tina Johnson
Costume Designer – Michael Berg
Sound Design – Bruce Vieira
Photography – Robin Jackson