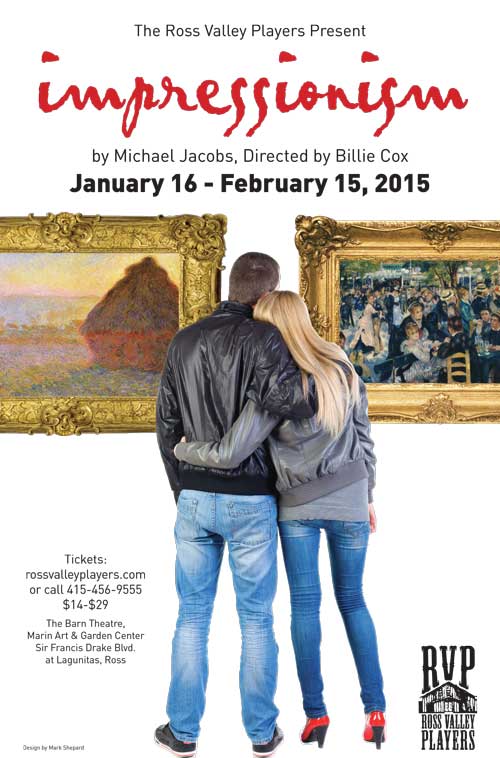 January 16 – February 15, 2015
Written by Michael Jacobs
Directed by Billie Cox
Production Manager Maureen O'Donoghue
In this gentle romantic comedy, an art dealer and her assistant use their intellect, their personal histories, and their work to avoid each other, to avoid connection. Bring your sweetheart and join us on their journey back to themselves and, ultimately, towards each other.
"This play is meant to be occasionally interrupted conversations between two shattered people who hide from life. They uncover each other's past experiences as they heal together in a small art gallery." – Playwright Michael Jacobs
Thursdays 7:30 pm on Jan. 15 , 22 & 29 and Feb. 5 & 12
Fridays 8:00 pm on Jan. 16 , 23 & 30 and Feb. 6 & 13
Saturdays 8:00 pm on Jan. 17, 24 & 31 and Feb. 7 & 14*
Sundays 2:00 pm on Jan. 25 and Feb. 8 & 15**
* There will be a 2:00 and 8:00 pm performances on February 14
**No matinee performances on the first Sunday or Super Bowl Sunday, February 1
Talk Backs Sundays January 25th and February 8th following the show.
What the Critics are Saying
Play Introduction
The play "Impressionism" by Michael Jacobs poses many questions about the role of art and human relationships. This slide deck helps familiarize the audience with a few of the pieces seen in the play, and also some of the questions the characters pose without spoiling anything!
Cast and Crew
Thomas Buckle – Tom Reilly
Katherine Keenan – Mary Ann Rodgers
Julia Davidson – Ellen Brooks
Young Katherine – Elena Gnatek and Juliana Postrel
Chiambuane and Mr. Linder – Phillip Percy Williams
Douglas Finch – Dale Camden
Ben Joplin – James Montellato
Nicole Halladay – Alana Samuels
Director – Billie Cox
Production Manager – Maureen O'Donoghue
Stage Manager – Linda Dunn
Set Design – Malcolm Rodgers
Technical Adviser – Kurt Wobken
Lighting Design – Ellen Brooks
Sound Design – Billie Cox
Sound/Visual Operator – Linda Dunn
Properties Design – Linda Dunn
Costume Design – Michael A. Berg
Assistant Stage Manager – Caroline Doyle
Box Office Manager – Caroline Doyle
Rehearsal Assistant – Nina Solomita
Volunteer Coordinator – Eleanor Prugh
Publicity Coordinators – Robyn Grahn
Publicist – Hamilton Ink
Program Consultant – Suzie Hughes
Graphic Design – Mark Shepard
Photography – Robin Jackson
Webmaster – Chromakit

About the Playwright
Michael Jacobs is an American writer and producer whose work has appeared on Broadway, Off-Broadway, television and film. He has written or developed several television series including Boy Meets World, Dinosaurs, Charles in Charge, My Two Dads, The Torklesons and the current Disney Channel series Girl Meets World. His play Cheaters had its premiere in South Florida in 1977, winning the Carbonell Award for Best New Play. His play Impressionism opened on Broadway in 2009 and starred Jeremy Irons and Joan Allen.