Now
an SFBATCC "Go See!" recommendation!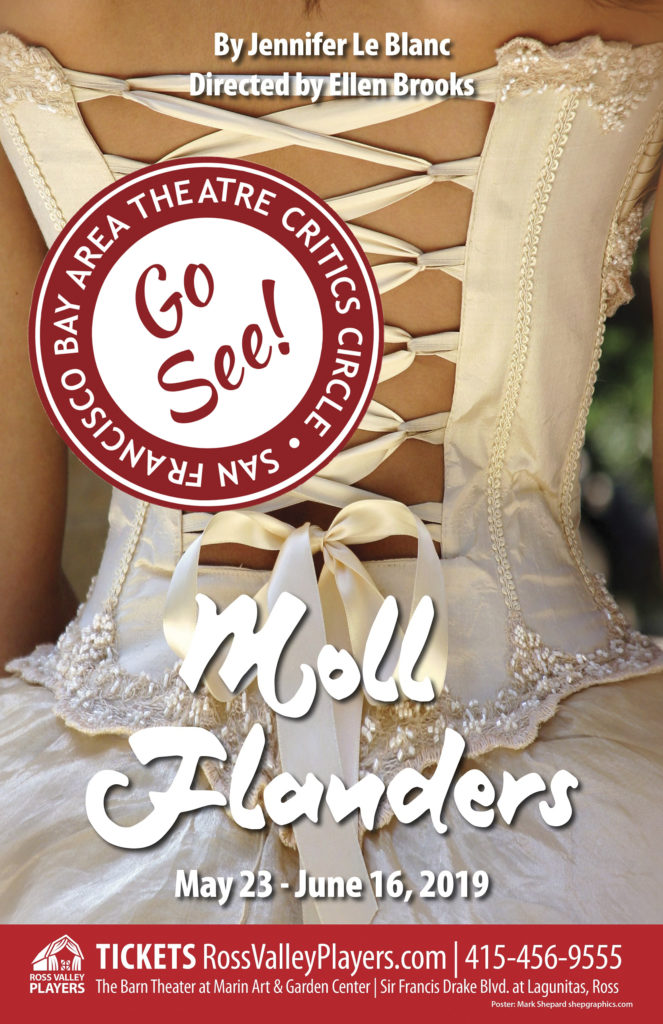 Moll Flanders – Adapted from Daniel Defoe's 1722 novel, adapted by Jennifer Le Blanc Directed by Ellen Brooks – May 24 – June 16, 2019
The life of a heroine who survives and conquers in the challenging world of the 18th century. A cast of 12 brings audiences in touch with inmates, scoundrels, pirates, thieves, lovers and accomplices in this adult romp.
Pay What You Will Preview – May 23 at 7:30 pm
Opening Night and Season Subscriber Reception – Friday May 24 at 6:30 pm
Buzz at the Barn – Saturday, May 25 at 7:00 PM pre-show cocktail hour with hors d'oeuvres and wine.
Talkbacks – Sunday June 2 and 9 – discuss the show with Director and Cast following the matinee.
Show Times: Thursdays at 7:30PM, Fridays and Saturdays at 8:00PM, Sundays at 2:00PM
CAST
Amber Collins Crane – Moll
Carolyn Beach – Mother
Naomi Bowers – Miss
Jack Clendenen – Christopher
Stephen Dietz – Banker
Sonia Gambhir – Lady
Shelly Lynn Johnson – Mayoress
Tina Marzell – Nurse
Kenneth Matis – Brother
Robert Molossi – Jemy
Dan Schwager – Keeper
Peter Warden – Robin
PRODUCTION TEAM
Ellen Brooks – Director/Lighting Desing
Maureen Scheuenstuhl – Stage Manager
Bob Wilson – Production Manager
Ron Krempetz – Set Designer
Billie Cox – Sound design/original music
Tom O'Brien – Properties Designer
Billie Cox – Lighting Design & Projection
Michael Berg – Costume Designer
Michael Walraven – Set Construction
Dhyanis Carniglia – Property Design/Scenic Artist
Richard Lane – Fight Director
Jack Clendenen – Fight Captain
Sonia Gambhir – Dance Captain
Lyra Lambert – Assistant Stage Manager
Logan Barr – Board Operator
Eleanor Prugh – Volunteer Coordinator
Karin Conn – Public Relations
Robin Jackson – Photography
Mark Shepard – Graphic Design
Suzie Hughes/Nancy Wilson – Program Consultants