November 14 – December 14, 2014
Adapted by Jennifer Le Blanc
Directed by Mary Ann Rodgers
Production Manager Madge Grahn
Thursdays 7:30 pm on Nov. 13 & 20 and Dec. 4 & 11
Fridays 8:00 pm on Nov. 14, 21 & 28 and Dec. 5 & 12
Saturdays 8:00 pm on Nov. 15, 22, 29 and Dec. 6 & 13
Sundays 2:00 pm on Nov. 23 & 30 and Dec. 7 & 14
Regency England on the Ross Valley Players stage! Austen's final and most nuanced novel is brought to life in this new adaptation by Marin native Jennifer LeBlanc. This tale has the wit, intelligence, and keen social satire we expect from Austen and so much more. Spend the holidays with Anne Elliot, the handsome Captain Wentworth, and us! We eagerly anticipate your visit. A North Bay premiere! Winner of the 2013 "Standout New Works Award" for its premiere production by the Silicon Valley Small Theater Association.
-There will be 2 pm and 8 pm performances on 12/13
-No matinee performance on the first Sunday
–Special Talk Back session with playwright Jennifer Le Blanc on December 7th following the performance.
Production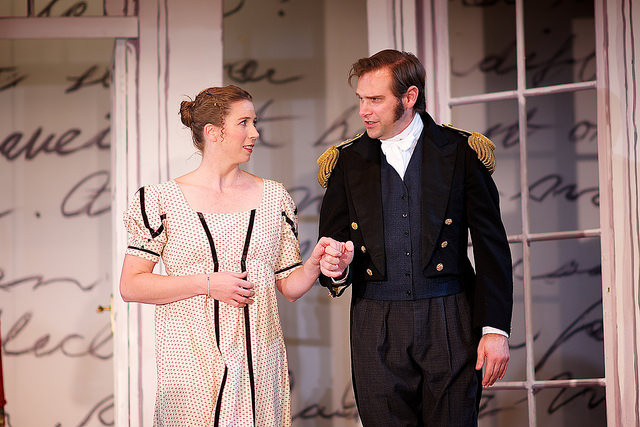 Ross Valley Players' production of Jane Austen's Persuasion has the critics raving:
Charles Brousse of Pacific Sun calls it, "A touching account of true love's triumph…their story has its own enduring charm."
David Templeton of KRCB Second Row Center says, "Extremely well-acted by a strong, grounded cast – who look awesome in the gorgeous period costumes…Various characters pass Austen's narration about like a plate of cookies at a Holiday ball, giving us the sense that Jane Austen herself is narrating her final tale from beyond the grave."
"RVP director Mary Ann Rodgers gets an energetic performance from a large and impressively talented cast…Robyn Grahn is rock-solid as the central character Anne…Austen-centric theatergoers will likely love this show…" says Barry Willis of the Marin Independent Journal.
Rosine Reynolds of The Ark Newspaper says, "Persuasion offers much holiday charm…a costumed confection for the holidays, suitable for all ages."
And Cari Lynn Pace of Marinscope feels that, "Fans and followers of Jane Austen's romantic and achingly reserved novels will be delighted by the North Bay premier of Persuasion…Adapted by Marin's own Jennifer Le Blanc…this drama has the charm, amusing repartee and emotional reserve expected from Austen…The Persuasion cast is quite large and most talented…"
Cast
Mary – Amanda Belscamper
Harville – Ross Berger
Mrs. Croft – Ellen Brooks
Elizabeth – Jayme Catalano
Mrs. Musgrove – Pamela Ciochetti
Mr. Shepherd and Admiral Croft – Clay David
Anne – Robyn Grahn
Charles – Derek Jepsen
Lady Russell – Rachel Kayhan
Wentworth – Gregg LeBlanc
Louisa – Emily Ludlow
Valet – John Nolan
Mrs. Clay and Mrs. Smith – Shawn Oda
Sir Walter – Steve Price
Lady Dalrymple – Anne Ripley
Henrietta – Jocelyn Roddie
Nurse Rook/House Servant – Natalie Stevenson
Benwick and Mr. Elliot – Peter Warden
Production Staff
Director – MaryAnn Rodgers
Production Manager – Madge Grahn
Stage Manager – Madge Grahn
Choreographer – Thea Rodgers
Sound Design – Stephen Dietz
Set Design – Malcolm Rodgers
Lighting Design – Ellen Brooks
Costume Designer – Michael A. Berg
Property Designer – Maureen Scheuenstuhl
Sound and Light Operator – Madge Grahn
Dialect Coach – Rebecca Kemper
Assistant Stage Manager – Natalie Stevenson
Publicist – Hamilton Ink
Volunteer Coordinator – Eleanor Prugh
Publicity Coordinators – Robyn Grahn, Jayme Catalano
Program Consultant – Suzie Hughes
Social Media – Leanne Rumbel and Gregg LeBlanc
Photography – Robin Jackson
Graphic Designer – Malcolm Rodgers and Mark Shepard
Web Design – ChromaKit
Web Master – Jayme Catalano, Zok-IT Computer Consulting