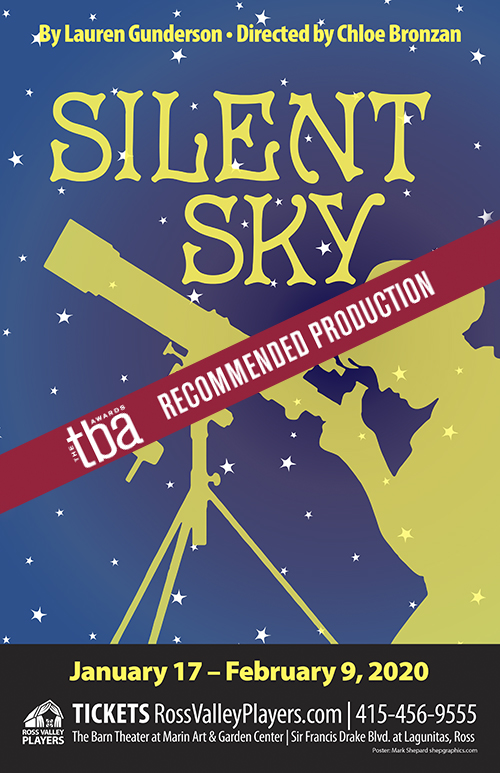 Silent Sky – Written by Lauren Gunderson Directed by Chloe Bronzan – January 17 – February 9, 2020
Now a Theatre Bay Area Recommended Production!
Based on real people and real events, Silent Sky is the story of some of the first woman astronomers who helped pave the way to our understanding of both the universe and Earth. Three exceptional women are hired in the early 1900's at the Harvard University Observatory in jobs called "computers." Prohibited from actually looking through the giant telescope (that's for the men), they undertake to discover the answer to "Where do we fit in space?". Their sources are photographic plates of images gathered by others.
The compelling central characters proceed with humor and determination toward their goals, while handling the very contemporary challenge of balance between families and potential romance – and their absorbing scientific quest. The triumphant result of their efforts was the discovery of the key to measuring the distance between objects in space, previously unknown.
Thursday Night Preview – January 16 at 7:30 pm
Opening Night and Season Subscriber Reception – Friday January 17 at 6:30 pm
Buzz at the Barn – Saturday, January 18 at 7:00 PM pre-show cocktail hour with hors d'oeuvres and wine.
Talkbacks – Sunday January 26 and February 2 – discuss the show with Director and Cast following the matinee.
Show Times: Thursdays at 7:30PM, Fridays and Saturdays at 8:00PM, Sundays at 2:00PM